Marrakesh is central Morocco's most exciting city, the epicenter of its tourism industry, and an intoxicating mix of confusion and chaos. The city was originally a hub for camel caravans but it is no longer the remote and dusty outpost it was just 40 years ago. Tourism has transformed Marrakech into an exotic 21st-century destination.
Though all those things that go into making a city so uniquely African and Moroccan, the heat, the dust, the Berbers, and the mud-brick ramparts are fortunately all still there. This former imperial city is a major economic center of Morocco and is home to beautiful gardens, palaces, mosques, delicious food, and chaotic souks. Here are the top must-see attractions in Marrakesh, Morocco.
Medina
Medina is the heart of this city and its raison d'être. It is a medieval city full of several colorful markets as well as skilled artisans who work their magic on leather, metal, and wood. Its maze of alleyways is full of stylish Riyadh's, traditional homes set around a courtyard garden that has been restored and opened as guest houses. Many of them are stunning examples of Moroccan architecture and provide visitors with an oasis of calm right in the thick of the action.
Among other things, the Medina offers the souks. The souk is a street marketplace where you can get all sorts of products from gold and silver products, spices, leather bags, food, and other modern items. Getting lost in Medina's chaotic souks is definitely an interesting experience, as it offers you a glimpse of life in this country many centuries ago.
Jamaa El-Fna
At the beating heart of the Medina is the Jamaa El-Fna, a huge square that is the stage for one of the world's greatest spectacles. During the day, it is awash with jugglers, snake charmers, musicians, and acrobats all competing for your attention and your money. At dusk, it is transformed by rows of food stalls that fill the square with the mouth-watering aromas of Moroccan cuisine, as entertainers hustlers and street vendors display their wares to pulsing diners.
Many believe it is the tourists who fuel the activity at Jamaa El-Fna, but at night the vast majority of the crowd is local. They come to feed on brochettes of chicken, couscous, and traditional tagines. For the adventurous, there is always stood sheep's head or steaming bowls of snail soup. The square is Marrakech in a microcosm, overwhelming, in-your-face, and impossible to ignore.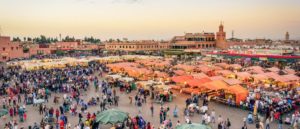 Koutoubia Mosque
Koutoubia Mosque is Marrakech largest mosque. It is very easy to spot, thanks to its 77m tall minaret. Built in the 12th century, this mosque is an inspiration for many prominent buildings in this city. You will find a beautiful garden plaza just outside the mosque.